FAQ
Welcome! We LOVE questions and want to help you any way we can. If you cannot find your answers about pasties here, contact us. Do you have anything to contribute? Please contact us for that too – we love sharing feedback, tips & tricks.
Pasties: a brief history.
Pasties emerged in burlesque and striptease in the 1920s as a way to avoid breaking the law by performing topless or nude. Pasties came to be regarded by some as more aesthetic and erotic than originally intended. They were worn in cabarets such as the Folies Bergère and Le Lido.  Burlesque performer Carrie Finnell is credited with adding tassels which hang from the center and incorporating tassel twirling as part of a performance: brilliant addition we think!
Today, pasties are considered both fashionable and functional and have been becoming more popular for women who do not want to wear a bra, would like to provide a hint of glamour underneath a favourite outfit or have a stunning accessory to every lingerie outfit. These gorgeous gems also provide a solution for wearing strapless dresses and dresses that have a deep plunge neckline preventing all types of nip slips. usually worn with lingerie, and very popular with burlesque dancers.
1. Disposable Nipple Pasties – designed to be used 1 time. On average, disposable nipple pasties last for a minimum of 8-12 hours.
2. Reusable Nipple Pasties – made to be seen and are decorative. Can be used multiple times and is usually made of silicone.
Check the description in every pair you like to make sure you understand which type they are. In both cases, these pasties are self-adhering with the highest quality hypoallergenic, and latex-free adhesive. Easy and painless to remove.
Fashionable & functional.
• Under sheer tops/dresses
• Under a deep plunging blouse or blazer
• Add a little confidence (we call it body armour) when you have an important meeting, presentation, date, or anything else that is shaking your confidence just a bit.  A little glitter goes a long way to help!
• Tanning, at the beach, at the pool (just don't get in the water with them or be prepared for a Janet Jackson moment!
• Bra fittings! (Gives you an extra layer of comfort when changing around your bra fitter)
• Dress Fittings (especially if you're a blushing bride to be!)
• Quick costume changes - especially in group situations (e.g. if you're an actor, model or dancer)
• Getting waxed/tattooed/laser hair removal
• Getting a massage (and you don't want to have to do that awkward fish flop turn over where they hold up the sheet for your "modesty")
• Under an unlined bra if you don't want your "headlights" showing through on cold days
• Preventing "nip slips" while wearing backless shirts/dresses with low sides
• At Carnivals, Festivals and to accessorize your fun swimwear and lingerie
• Smashing the Patriarchy!
• Do not use lotion or baby powder on your nipples/areolas prior to applying
• Apply to clean, dry, lotion and powder free skin
Yes, it will, DO NOT USE any form of moisturizers, lotions, powders on the area or the adhesive will not stick.
Burlesquers often swab the area we're applying pasties with rubbing alcohol before applying (warning - this trick works if you're looking for SERIOUS stickiness).
For extra adhesive, Burlesquers often use spirit gum, wig tape, double sided carpet tape or double-sided fibreglass tape to get our pasties to stick on for long periods of time onstage. WARNING - double sided carpet tape isn't or the faint of heart! It can REALLY stick on and getting it off can be sore, but your pasties will definitely stay on through a sweaty dance routine that's for sure!
Here is a simple test that you can perform on yourself to check the reaction of your skin to the adhesive:
1. If you used lotion, moisturizers, powders or body oils, WASH IT OFF FIRST with clean water before doing the test.
2. Stick one adhesive nipple cover on the underside of your arm near your elbow. Check if you have any negative reaction to it.
3. DO NOT USE on any area of the skin that has a rash, broken, sunburned or is damaged in any way.
No one has ever reported anything like that to us. So no, your breasts won't break out with acne if you use nipple covers. To be safe, if you are using adhesive and reusable nipple covers, clean them first before using them.
Taking a hot shower is the best way, the soap will clean all the residue out in no time. If you don't have time for a shower, soak a cotton ball in some oil or alcohol and gently rub the affected area.
Cleaning reusable nipple covers are easy, just follow these steps:
1. Wipe with warm water, you can use mild soap.
2. Gently rub the adhesive portion to remove any sort of build-up and residue.
3. Remove from water and allow them to dry.
4. adhere the backing and store.
Just wash them with warm water and soap. Lightly scrub off any residue and then let it dry and that is basically it. It should be in its top adhesive form in no time.  If you want a bit more adhesive, see our point about stickiness above.
It is best to stick your pasties back to the plastic backing board after use, or another nonstick surface like a piece of parchment paper, either side of a Ziploc bag, or even a Tupperware lid! Your future self will thank you for not sticking them to something that will be hard to peel off on your next use. NEVER stick your pasties together (they can damage each other or the adhesive).
It depends just how well they've stuck to you! If they're stuck on really good, try peeling a corner, and pulling the skin taught as you peel the pastie back on itself in the opposite direction. Do NOT try ripping the whole thing off like a band aid - slow and steady wins the race! Give those nips a little rub with some cream or body oil after - they'll thank you!
Did you wear your pasties a little longer than planned? Have they become one with your body, and you're worried you'll never see your nipples again? FEAR NOT! Start by peeling an edge and gently working that edge backwards over itself. With your other hand, hold the surrounding skin taught in order to create resistance and allow the pastie to peel away from your skin.
The answer to this depends on what typeof surgery you have had and the extent of any reconstructive or enhancement. Mostly, we get this question from breast cancer survivors.  If your reconstruction surgery has included the removal of nipples, then the flat pasties work really well. For example, our Vivienne pasties. I have found that the cone shape can be more difficult to adhere without a nipple to adhere to.  But, if you are determined to twirl you can absolutely add more adhesive and twirl away, girl!
Generally speaking, pasties do not affect or irritate scar tissue. The adhesive is hypoallergenic, latex-free. However, you must wait the time your doctor recommends to heal before any adhesive is applied. If you are concerned at all, do a skin test prior to any commitment to wearing.
ABSOLUTELY!!!!!!!!  This is body art, darling. Performers routinely wear "assels" – how fun! Festival goers wear them everywhere! Place them anywhere you wish. Just note, it can be a little like wearing a bandaid so if you have hair in the areas you want to apply them we would recommend shaving to avoid pulling out any hair and allowing them to adhere better.
Always best to apply your pasties while looking in a mirror (just to get the hang of it)
Need a lift? Applying your pasties a little higher on your breast will give the appearance of higher set breast tissue - check out our tips below! 
Not a problem - ALL boobs are beautiful, no matter how they're oriented on your body! If you're looking to get a little lift from your pasties, try gently pinching your nipples first to get them to contract, then apply the bottom of your pastie to cover as much of your nipple as possible, and use the pastie to gently lift your breast up as your affix the top of the pastie to your breast tissue.
There is so much beauty in the gems used in these gorgeous accessories.  If you choose not to reapply adhesive, consider creating something else out of these brilliant pieces of art: hair applique's, costume adornment, holiday ornaments, even resin coasters: we have heard it all (and we love it all). You are already creative, keep the love alive!
Tassel Tips
Welcome to Tassel Tips! Have you wanted to learn how to twirl but not sure how? Well we have the tips for you. It is not as hard as you think. As @pureivorydotca will show you, all you need are pasties, passion and beautiful you. Get ready, practice and have a whole lot of fun.
Tassel Tips 101: Introduction
LETS TWIRL!!
Ok - you've got your pasties, they have tassels (oriented in the centre of the pastie and not at the bottom of it) and you're ready to twirl...but how??
TWIRLING TIPS!
Stand up straight - shoulders back - think about getting your skeleton out of the way and just isolating the meat of the body part you're trying to shake/rotate. When you feel the momentum building up, go with it and let that meat fly (as Toronto Burlesque Artist Dolly Berlin says)
THE TOP TEN REASONS YOUR TASSELS MAY NOT BE TWIRLING PROPERLY
From Jo Weldon, Headmistress of the New York School of Burlesque, and Author of the Burlesque Handbook:
Your tassels are too light or too heavy.
Your tassels are too short or too long.
Your tassels are sewn or otherwise attached too tightly to the pastie to be able to swing.
Your tassels are caught on your sequins, under your pasties, or to your sweat or body lotion.
Your pasties are too flat (usually more likely to be an issue for breast tassels than for assels).
Your pasties are detaching from your skin. Exciting, but not conducive to twirling.
You aren't bouncing/shaking/flexing hard enough/fast enough/gently enough/deeply enough/enough times to gain momentum.
You are wearing different shoes than those in which you learned to twirl.
You are forcing musicality which unfortunately defies the rhythm required for the physics of twirling.
You are doing a move that you saw work on someone else but haven't yet accepted does not actually work on you.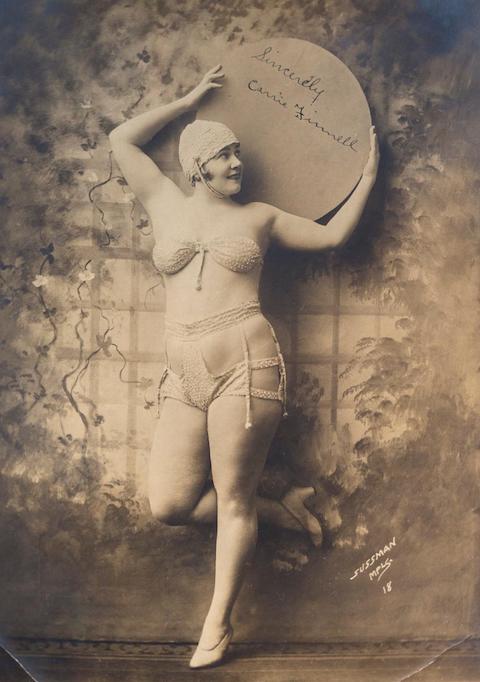 Carrie Finnell
Described as "one of the most novel and most startling acts in show business," Carrie Finnell began her burlesque career in 1917 as a Ziegfeld girl. While burlesque has become synonymous with more household names like Gypsy Rose Lee, Finnell is credited with being the first to get Lee to strip on stage. This bad girl of burlesque holds the record for the longest striptease when she performed in Cleveland during the '20s. Finnell would remove an article of clothing each week over the length of her contract. Ticket prices and audiences inflated as she wore less and less. Over her 45-year career Finnell was a Broadway performer and comedienne, beat Mae West in a strip-off and also was credited with being the first to add tassels to pasties! Into her 70s you could see Finnell able to match the beat of music with her tassel-twirling. Finnell not only was a very well-endowed lady, she also had "educated breasts," chest muscles that she had honed and toned as a physical education teacher in Kentucky. Finnell could isolate one tassel at a time, having one spinning while one was perfectly still, drawing comparisons to airplane propellers. 
Key contributor(s): In addition to the team at appeeling, we have the great pleasure of having the brilliance of the burlesque queen @pureivorydotca share tips from a performers perspective. Achieving pastie perfection together!
Ivory is a Toronto based multidisciplinary artist. A graduate of Randolph College for the Performing Arts she leads a storied career as a singer, actor, dancer, model and body positive advocate. An archer, axe thrower and firebreather, Ivory boasts a bag of tricks which is sure to wow any crowd! Since being crowned Miss Canada Plus 2007, Ivory has continued her activism as a Plus Sized Entertainer and advocate for over 10 years, pushing for change with her intersectional feminism, body positivity, queer advocacy and outspoken message of love at all costs. A founding member of the Succulent Six, Canada's team of Curvy Super SHEroes and a proud member of Les Femmes Fatales, Canada's premiere burlesque troupe for Women of Colour, you can follow her antics on Instagram and Twitter @pureivorydotca and online at www.pureivory.ca